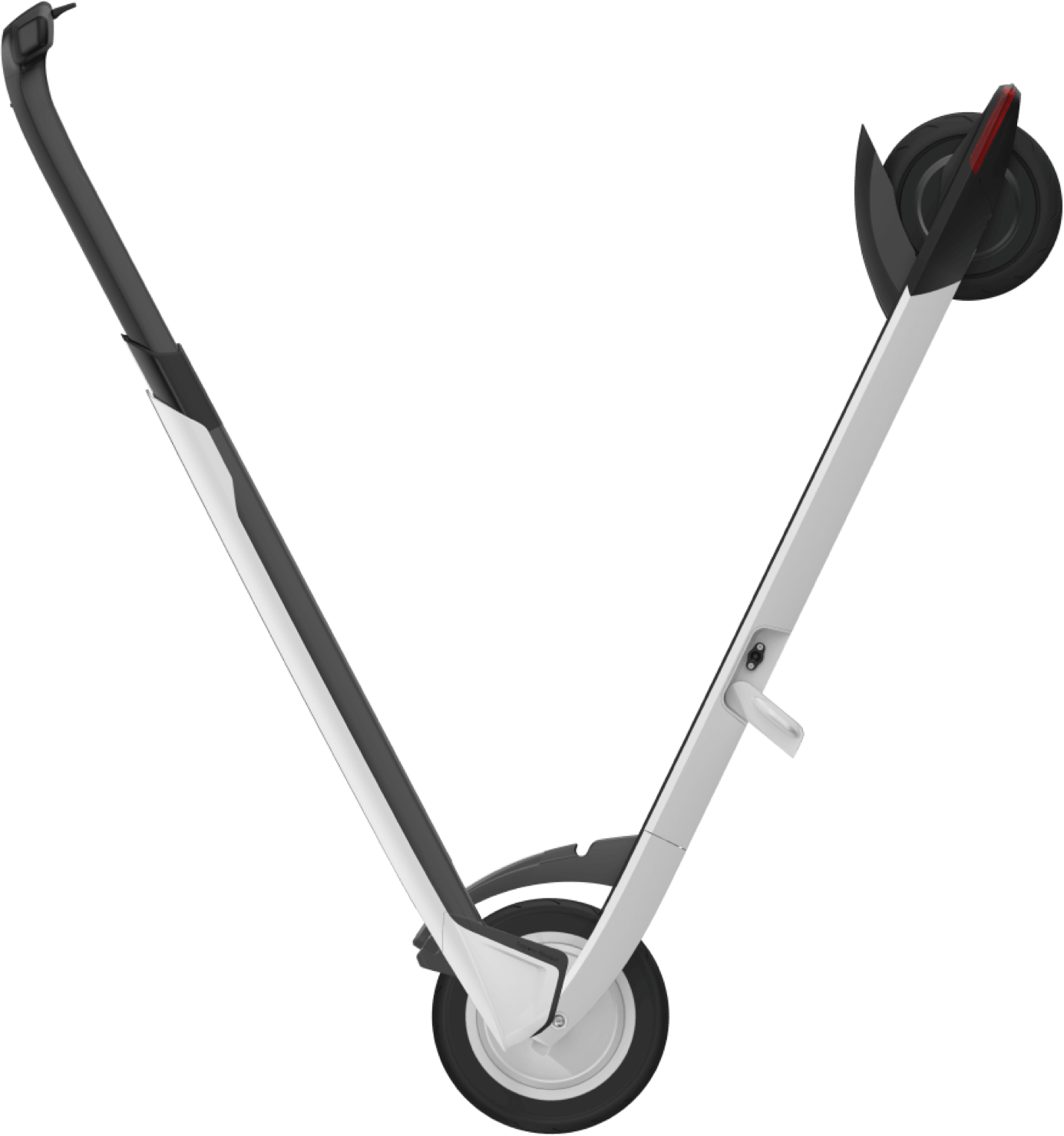 An ultra-portable
kickscooter from the future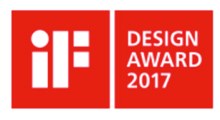 2017 German iF Design Award
1 Second
Folding System

10.5kg
Ultra-lightweight Design

Aerospace-graded Magnesium Alloy
High Quality Body Material

Step-control
Innovative and Intelligent
When Science and Technology Meet Aesthetics
Compact and lightweight, Ninebot KickScooter Air T15 is chequered with black and white and full of design highlights. Highly recognizable folded and unfolded appearance has undergone careful polishing, letting science and technology aesthetics get perfect display.

1 Second Folding System
Ninebot KickScooter Air T15 adopts a self-developed folding system, which can achieve 1-second extremely fast folding. When folding, the handle rotates and folds accordingly. The folded scooter becomes compact and easy to store.
Ultra-lightweight design
and aerospace-graded magnesium alloy body
90% of the metal parts, including the frame, are made of aerospace-graded magnesium alloy, and the total weight of the whole scooter is only 10.5kg. Light weight, high strength, corrosion resistant magnesium alloy not only makes the body lighter, but also stronger and more reliable.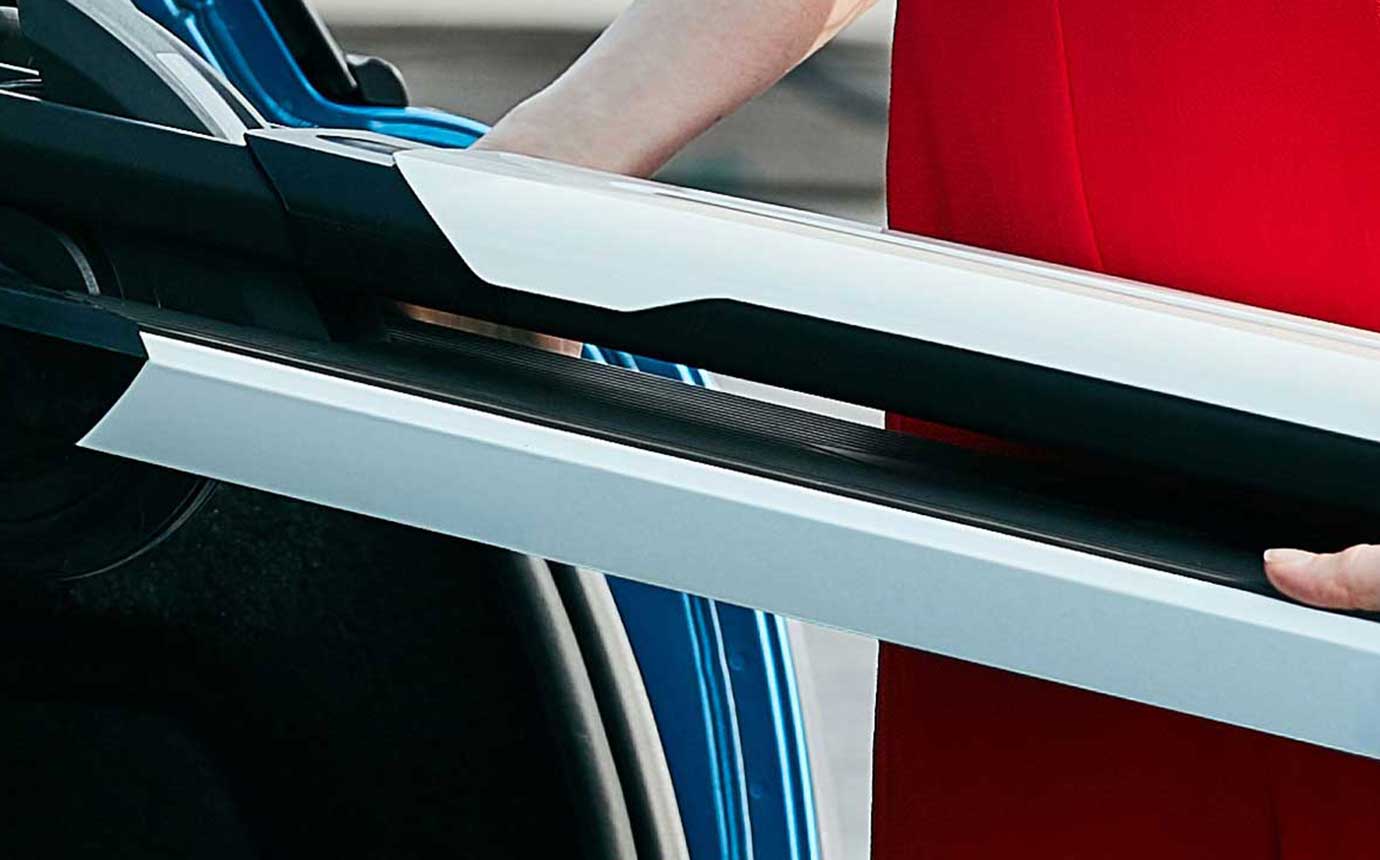 Compact size supports the KickScooter Air T15 to be easily put into the trunk
The KickScooter Air T15 is compact, with a size of only 1,024×202×223mm after folding, which can be easily put into the trunk without taking up much space.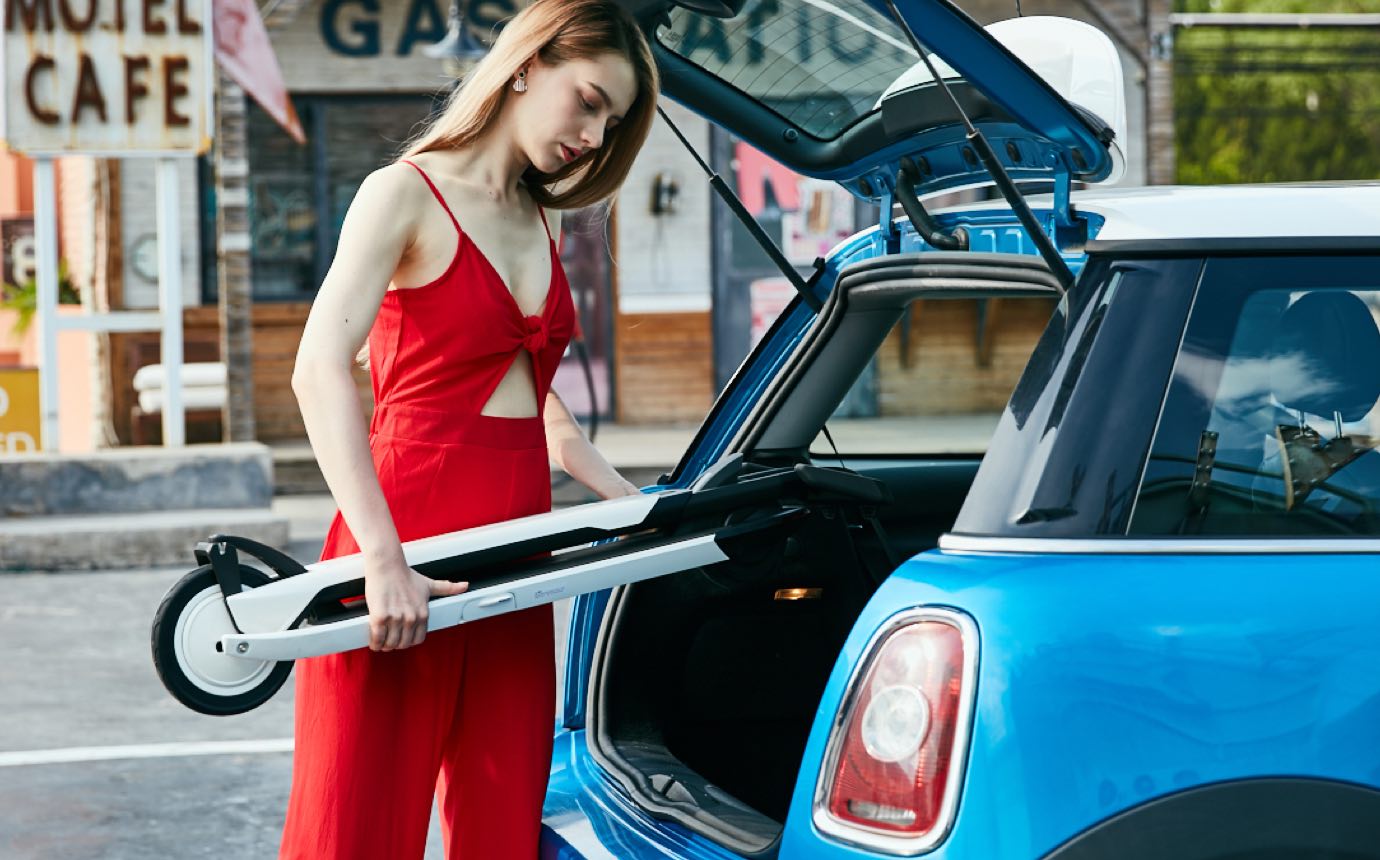 No need to lift up, easy to drag along
The folded Air T15 can be dragged along, with no need to lift up.
Girls can also handle it easily.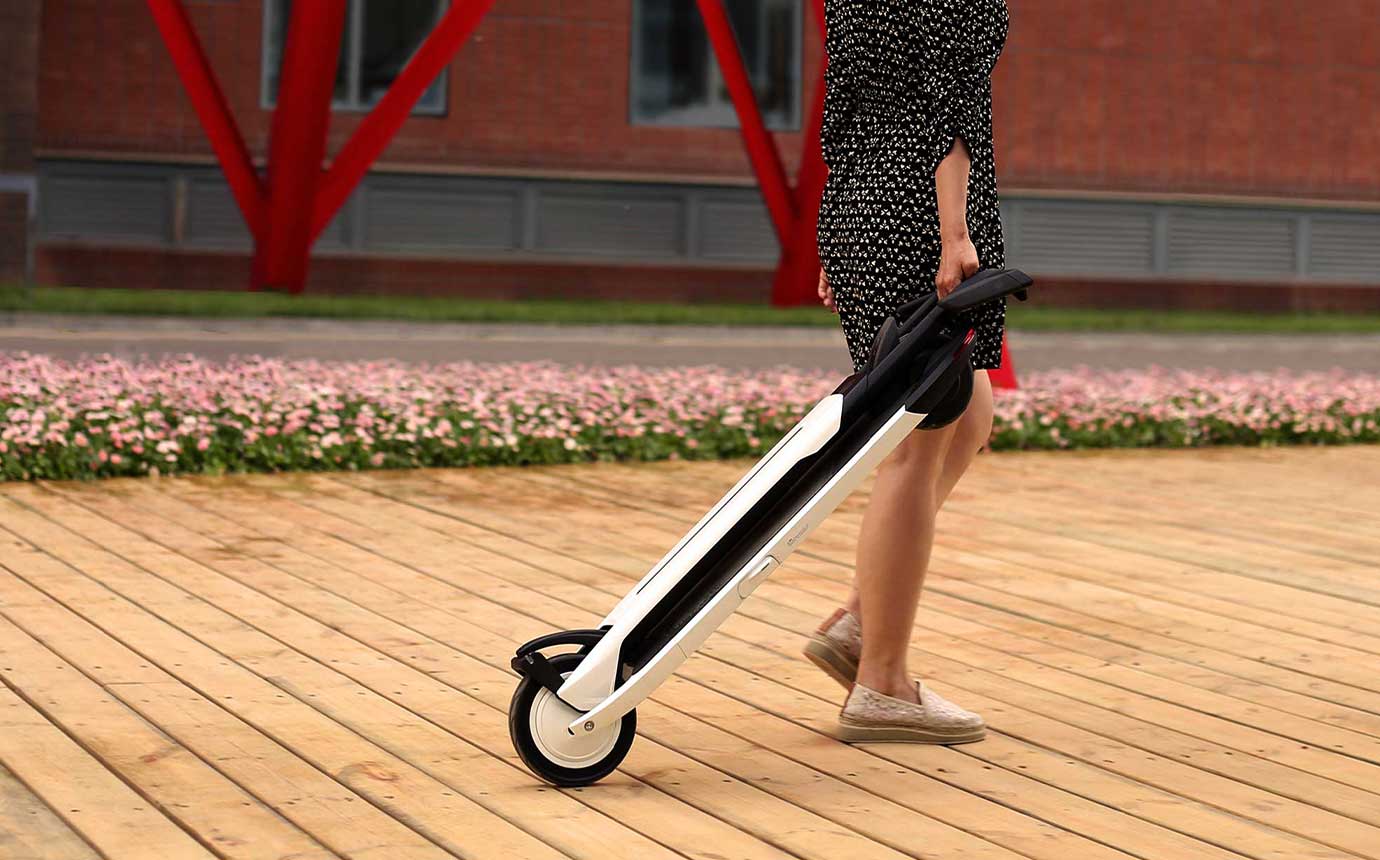 Vertically place the KickScooter to make better use of space
Cushioning material in the packaging box can help vertically place the KickScooter and hold a charger to save indoor space and tidy up the environment.
See more about multi-purpose storage dock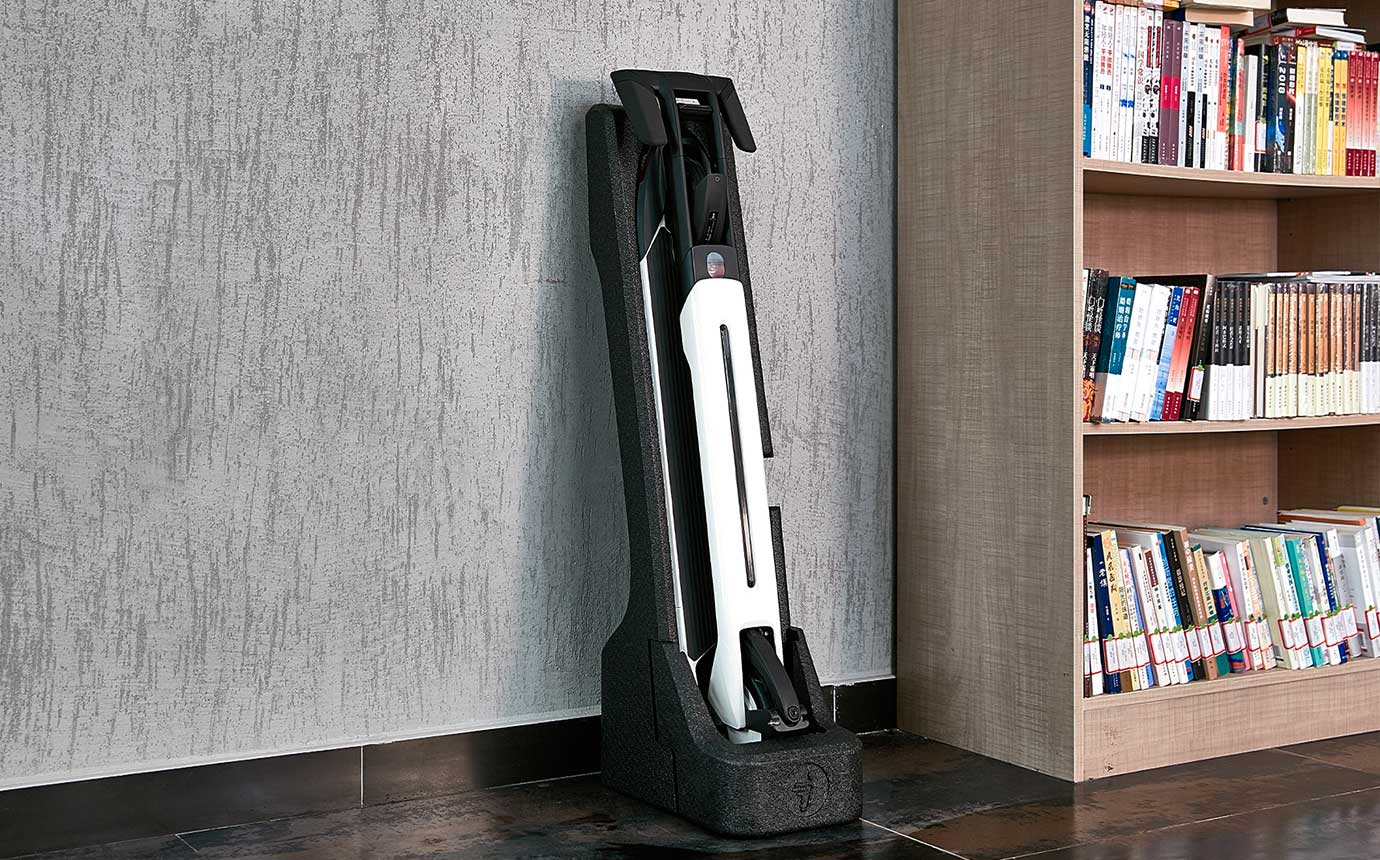 Multi-purpose Storage Dock
Cushioning material in the packaging box is of great use, which can be used as a "multi-purpose storage dock" to help vertically or horizontally place Ninebot Kickscooter Air T15 and hold a charger, making it easy and convenient to charge the KickScooter.
Front

Front (with kickscooter)

Back

Innovative interaction
one tap to go
To provide better driving experience, Ninebot KickScooter Air T15 adopts a more ingenious and scientific human-computer interaction design. Driving control is achieved by "tapping" the fender, thus freeing up hands and making riding more carefree.
One tap to go

Step on for 3 seconds to shut down

Brake by stepping on

Two taps to switch
the speed mode

Click to turn on/off headlights
(stationary state)
Hardcore sci-fi style appearance unique sense of design
Boundless screen simple and more stylish.

The entire control panel of Ninebot KickScooter Air T15 is almost a boundless screen, extremely simple and stylish.

Dazzling ambient light can change colors freely.

The line-shaped dazzling ambient light makes the front end of Ninebot KickScooter Air T15 look thinner and slimmer. The colors of the light can also be customized through APP to highlight your personality.

Built-in headlamp is more bright and dazzling.

2.5W high light lens headlamp can reach an illumination range of 10m. When the headlamp goes out, it blends in with the black body to create a more integrated visual effect.

The wraparound rear light is more eye-catching.

Linear rear light design, which is more commonly applied to luxury cars, can provide greater visibility, being more eye-catching at night while making the whole appearance more stylish.

Integrated multifunctional kickstand design.

When retracted, the hidden kickstand will be integrated with the body without destroying the overall beauty. When the kickstand is put down, the charging interface will be immediately exposed for charging. The kickstand can also act as the protection cover of charging interface, supporting two functions with its dedicated design.
Excellent configuration for great driving experience.

21700
automotive power lithium battery,
subject to intelligent upgrade
safe and reliable

To create a slimmer body, we choose the 21700 automotive power lithium battery with higher energy density. With the support of the new intelligent BMS system brought by the 7-year technology accumulation of Ninebot, the performance of the lithium battery is safer and more reliable.
Mini - sized,
powerful 250W high performance motor
The 250W high performance motor has higher power density. Intelligent temperature control device can ensure more stable and safer motor operation.
Explosion-proof and shock-proof tires are easy to maintain and make riding more carefree
Customized hollow tire with internal support for Ninebot KickScooter Air T15.
Air free concept, no risk of puncture, more convenient to ride.

Explore more fun
from App
Download the "Segway-Ninebot App" to experience multiple features Join the N family and share your joys with like-minded people
Vehicle information

Cruise control

Remote control lock

Ambient light setting

Social sharing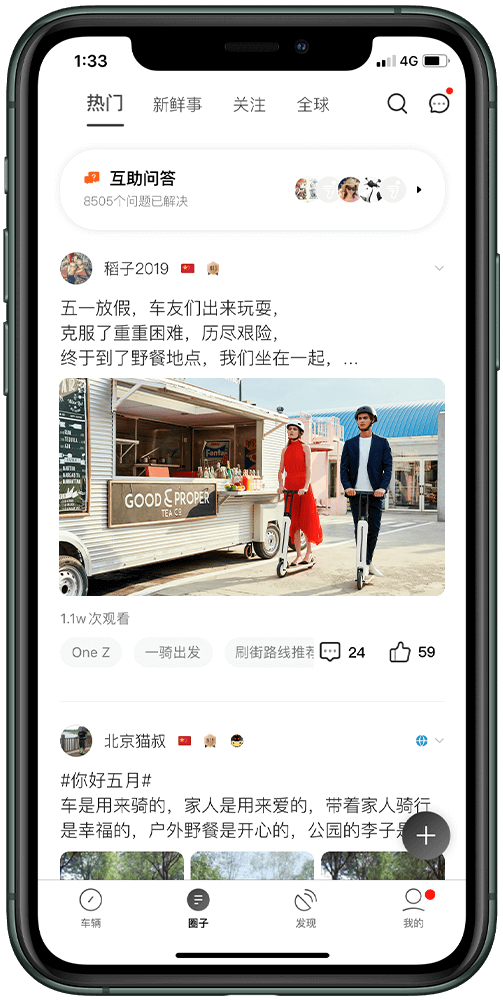 Specification
Parameter Configuration
Basic Information

Product name: Ninebot KickScooter Air T15
Model: Air T15
Net weight: Approx. 23.2 lbs (10.5 kg)

Rider

Maximum load: 66.1–220.5 lbs (30.0–100.0 kg)
Recommended Age: 14-60 years
Required Height: 4'3"–6'6" (130–200 cm)


Machine Parameters

Maximum speed: Approx. 12.4 mph (20 km/h)
Typical Range [1]: Approx. 7.5 miles (12 km)
Max. Slope: Approx. 15%
Traversable Terrain: Asphalt/flat pavement
Operating Temperature: 14–104°F (-10–40°C)
Storage Temperature: 14–122°F (-10–50°C)

IP Rating: IPX4
Duration of Charging: Approx. 4h

Battery

Maximum Charging Voltage: 42V⎓
Nominal Voltage: 36V⎓
Nominal Energy: 167Wh
Nominal Capacity: 4,650mAh
Charging Temperature: 32–104°F (0–40°C)
Battery Management System: over-heating, short circuit, over-current and over-charge protection

Motor

Nominal Power of Motor: 0.25 kW, 250 W

Charger

Input Voltage: Approx. 100-240V
Output Voltage: 42 V⎓
Output Power: 0.071 kW, 71 W
Output Current: 1.7A

Tires

Front tire: 7.5 inches internal support rubber tire
Rear tire: 6 inches internal support rubber tire
[1] Typical range: Tested while under full power; load of 75 kg, @25°C, 12km/h on average on pavement
* Factors affecting performance: speed, number of starts and stops, ambient temperature, etc.